Financial Capability Center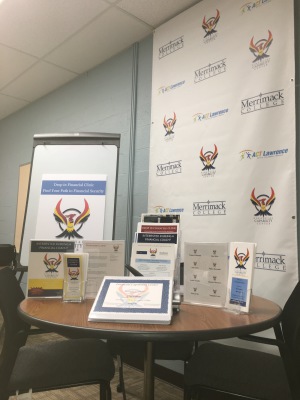 This was a very special internship for me simply because I helped build it from the ground up. The Financial Capability Center is a new none-profit partnership with Merrimack College that aims to support the underpriviledged and low income people of Lawrence Massachusetts by  utilizing the student body of Merrimack College. Being a Catholic college, the concept of community service is not new to any one familiar with the school and we pride oursleves on helping others. Being able to be a part of something so new was a great experience for everyone involved. I had two roles during my internship with FCC and that was to be a financial coach for clients and help them with achieving financial literacy and success with their own goals. Secondly I was the lead marketing coordinator. I started with a logo and made it into a brand that the college is fully supporting and utilizing after it first launched back in Septemeber. All aspects of design, marketing, implementation, research and execution fell into my hands as we all worked hard to grow this center. Heavy amounts of marketing research and target marketing went into the center and figuring out an expansion plan was key in ensuring that this was not a tempory service, but that it was the start to a new Merrimack College tradition that would be around for years to come. It was a learning experience in so many ways being that it was a pilot program. I learned how to adapt to new goals and priorities, how to establish those new priorities and how to really motivate a team to achieve a common goal. We as financial coaches did so well that we had not only members of the college looking at this new initiative, but the mayor of Lawrence is also interested in really supporting this as a useful service to improve the community.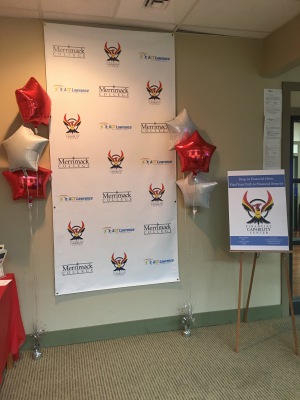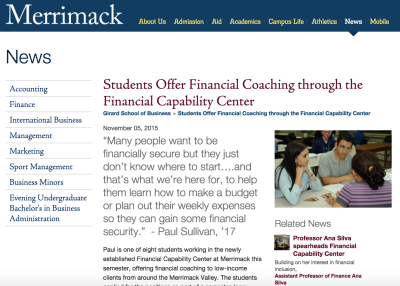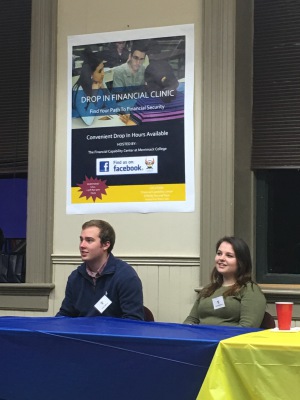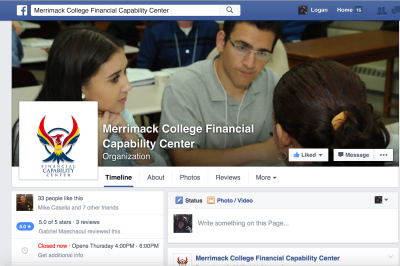 StockTrak Mock Investment Portfolio
I used StockTrak and Bloomberg to make decisions on my domestic one-million dollar portfolio as well as my two-million dollar international stock portfolio. I used Bloomberg, Morningstar and other types of financial tools to perform analaysis and research of potential investment opportunities. We had to invest in all sorts of things not just stocks, but commodities, options, futures and even currencies in an effort to beat out fellow classmates for the top ranking spot amongst portfolios. The research, analytics, and learning of relationships all came together to see why things happen. I learned how to predict trends in the various markets. I became an expert critical thinker along the way which made for some highly transferable skills that I can take to any job. My understanding of finance has made me better at understanding marketing and from there better at designing making for a pretty rounded and able person in the business world.  
Mucci Capital Markets Lab
I was the first Marketing Intern brought in to expand the reach of the college's finance department. I was tasked with promoting the finance department and making the Mucci Capital Markets Lab a well known competitor amongst the countries leading finance programs. Merrimack College is the home of the largest Bloomberg Lab available to college students with over 20 termals being used everyday seven days a week. I am a fully trained Bloomberg Lab Assistant in addition to my marketing position. One of my many responsibilities was reaching out to local area schools and trying to get them interested in participating in mock stock portfolio commepitions in partnership with our college. This effort is just one of the way s in which we are expanding our finace branding and making people associate Merrimack as a top competing business school .Through more branding and marketing initiatives we are showing that Merrimack's finance curriculum is growing more and more every year. We are not the tiny school we once were, but are evolving everyday. 
Chateau Margaux: Launching a Third Wine
As a part of one of my senior capstone courses we had to analyize harvard business cases and make recommendations to help solve the given problem or identify areas of improvment for the businesses. This particular case was about a winery in France called Chateau Margaux. This vineyard struggled with deciding to launching a third wine into their product offerings or not. The case presentation outlines what we found to be the best option for the winery. 
IComeUp Marketing                                                                                                                                                                                     Remote Account Manager and Sales Affiliate                Miami, FL
                                                                                                                 January 2016- Present
Grow client Instagram accounts and social media influence with a collective following of over 100,000 organic followers
Manage the branding for musicians, models, entrepreneurs, businesses and athletes for their specific target audience
Win new business by outreach and traditional sales tactics